Prat-Gay Said Likely to Meet IMF as Argentina Opens Books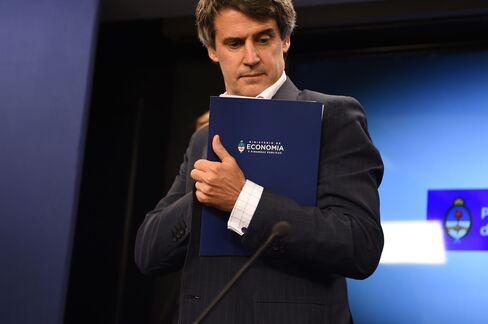 Argentine Finance Minister Alfonso Prat-Gay will probably meet with the International Monetary Fund's Christine Lagarde at the World Economic Forum in Davos, Switzerland, to discuss resuming formal ties with the international lender, according to a person with knowledge of the matter.
Prat-Gay, a former JPMorgan Chase & Co. executive and central bank president, will discuss allowing the IMF to conduct its first review of the Argentine economy since 2006, said the person, who asked not to be identified because the matter is private. Under Article IV of the IMF's statutes, members face regular inspections in which officials from the Washington-based fund speak to lawmakers, business leaders and unions to make recommendations about the country's economic outlook.
Argentina's economic reporting has been questioned since 2007 when then-President Nestor Kirchner replaced senior officials at the national statistics agency and Lagarde, the IMF's managing director, censured Argentina for providing unreliable numbers in 2013. Prat-Gay, who is also Argentina's representative on the IMF board, has said he wants to make his country credible again.
Since taking office with President Mauricio Macri Dec. 10, Prat-Gay has revamped the statistics agency, lifted most capital controls, allowed the peso to float freely and kicked-off talks with disgruntled creditors from the nation's 2001 default in a bid to rebuild confidence and investment in South America's second-biggest economy.
"We want an Article IV because we have nothing to hide," Prat-Gay said in an interview in Davos.
An IMF spokesman declined to comment on a possible meeting this week.
Argentina's benchmark dollar bonds due 2024 fell 0.5 cent to 103.77 cents on the dollar, pushing the yield up 0.09 percentage point to 8.4 percent, according to Bloomberg data. The peso weakened 0.3 percent to 13.4560 per dollar, in line with other emerging market currencies.
Macri declared a "statistical emergency" in his first month in office and vowed to replace the consumer price index Kirchner's wife and successor Cristina Fernandez de Kirchner created in 2014.
Prat-Gay said officials are aiming for inflation between 20 percent and 25 percent this year. Last week, the government said it will use an inflation index from the city of Buenos Aires, which at 26.9 percent is nearly double the national rate reported by the previous administration.