Ukraine Bonds Have 4-Cent Rally in Store If Jaresko Gets Top Job
Ukrainian Finance Minister Natalie Jaresko may prove to be the savior of the nation's bond market for a second year if speculation she's on the verge of becoming prime minister turns out to be true.
The eastern European country's debt will rally as much as four cents on the dollar if Jaresko, 50, takes over as prime minister, according to Mint Partners Ltd. and Landesbank Berlin Investment GmbH. The Chicago-born former investment banker became the darling of investors when she negotiated a $20 billion debt deal six months ago that spurred the biggest bond rally worldwide.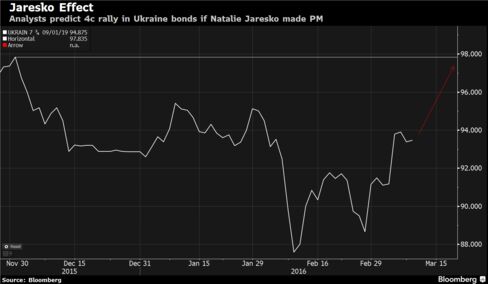 Since Jaresko has been untainted by the political infighting threatening to stymie government policies needed to rebuild the country, the hope is that she will make headway in tackling graft and appease international donors whose aid is keeping the country afloat. Speculation in the first week of March that she has been offered the top job wiped out 2016 losses in the nation's Eurobonds.
"If Jaresko is made prime minister I think the bonds would rally to post-restructuring levels, or even overshoot that," said Oksana Reinhardt, the head of emerging-market research at the Mint Partners brokerage in London, who told her clients last week to start buying the sovereign's bonds. "There is optimism that if she comes to office, she will be able to root out corruption and finally get reforms through."
Track Record
A selloff gripped Ukrainian bonds last month as the resignation of a technocrat economy minister shed light on infighting within the ruling coalition and drove the government to the brink of collapse. While Prime Minister Arseniy Yatsenyuk survived a confidence vote, he's now tasked with rearranging his coalition after two parties quit.
Negotiations on Jaresko's possible appointment were held last week, Ukrainska Pravda newspaper and the Financial Times reported, citing people familiar with the matter. Daria Marchak, a spokeswoman for Ukraine's finance ministry, declined to comment on the reports when contacted by phone on Wednesday.
Jaresko, the founder of a Kiev-based private-equity firm, has built a rapport with investors since she took over as finance minister in December 2014, 10 months after the toppling of the country's former president brought a pro-Europe coalition to power.
'More Stability'
Within a year, she helped Ukraine avert default by negotiating a restructuring with private creditors including Franklin Templeton and push an unpopular budget through parliament. After shrinking for two years amid a conflict with pro-Russian separatists that ravaged the nation's industrial heartland, the economy has returned to growth this quarter, Central Bank Governor Valeriya Gontareva said at a conference in Kiev on Thursday.
"Ms. Jaresko has an excellent reputation locally and abroad," said Lutz Roehmeyer, a director at Landesbank Berlin Investment GmbH, a holder of the nation's debt who foresees a two-cent rally if the prime minister appointment happens. "Her appointment would bring more stability and sophisticated financial know-how to the government. That will be regarded favorably by the International Monetary Fund and foreign bond investors."
Hype related to the potential appointment triggered a 6.2-cent jump last week in bonds due in September 2025, entirely wiping out February's losses. The notes were little changed at 88.03 cents on the dollar at 2:00 p.m. in Kiev on Thursday.
One demand of the IMF's $17.5 billion rescue loan is for Ukraine to push through policies to stamp out corruption that ranks Ukraine among the bottom 40 worldwide in a Transparency International survey. Currently the fight against graft is being hampered by "vested interests," Jerome Vacher, the IMF's resident representative in Ukraine said on Thursday.
Oligarch Challenge
Even if Jaresko is prime minister, the optimism will die down because she may not have power to withstand pressure from a business elite interested in maintaining the status quo, according to Viktor Szabo, a money manager who helps oversee $11 billion of emerging-market debt at Aberdeen in London.
"This is wishful thinking from investors," said Szabo, who bought Ukrainian bonds in last month's selloff and plans to take profits if the debt rallies much further. "I just don't see Jaresko being politically strong enough to be able to actually achieve anything. I just don't see her being able to take on the oligarchs."
Parliamentary Speaker Volodymyr Hroisman is also being considered to lead a new cabinet, the Financial Times reported on Tuesday. Former Polish Central Bank Governor Leszek Balcerowicz, another rumored contender, said on Polish television on Wednesday he isn't getting involved.
If there's no candidate who can command a majority in parliament -- be it Yatsenyuk or a replacement -- early elections will have to be called.
"No other named candidate comes close to Jaresko," Mint's Reinhardt said. "She is a professional who will be able to maintain the proper relationship with IMF and bring the country back on track."