Venezuelan Credit Dashboard: Bonds, Crude Export Prices Rebound
Venezuela, which has the largest crude reserves on the planet, has defied predictions of default since the oil collapse started in 2014 and analysts are split as to how long the nation of 30 million can hold out. With that in mind, Bloomberg is taking a close look each month at some of the key components that may determine its fate.
Debt Payments
The government and state oil company Petroleos de Venezuela SA only need to pay $70 million this month after $45 million in June, according to data compiled by Bloomberg. August is looming, though, and interest payments totaling $726 million are set to come due.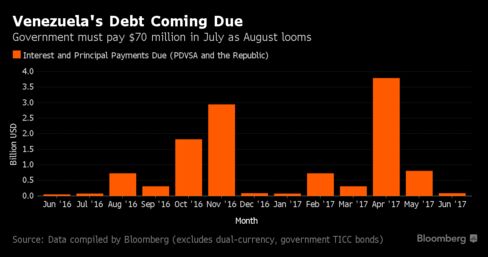 Bond Prices
Venezuela's dollar bonds rallied in June to their highest levels of the year, as looting in some parts of the country and speculation about the political future of President Nicolas Maduro pushed traders to bet that change was coming. The government's benchmark notes due 2027 are trading at 48.63 cents on the dollar and yielding 21.56 percent. The price rose 14 percent in June, demonstrating how the volatile political situation can create big winners - or losers - on Wall Street.
PDVSA's $3 billion of bonds due in 2022 rose 12.7 percent in June to 50.3 cents on the dollar to yield 32.54 percent.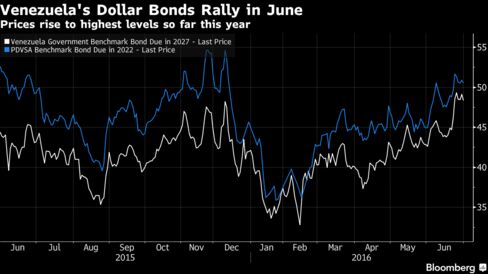 Credit-Default Swaps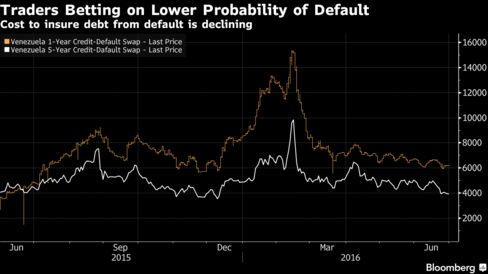 Central Bank Reserves

Venezuela's international reserves held close to their 13-year low of $12 billion in June, but the good news is that the pace of decline decelerated. Reserves have only fallen about $103 million in June, after declining $637 million in May and $502 million in April, according to data compiled by Bloomberg. In Fact, June was the least volatile month in terms of the change in reserve levels since last September.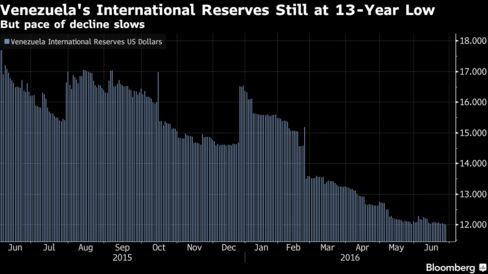 Currency Rates
Venezuela's weakest official exchange rate, used mostly for imports deemed non-essential, slid 15 percent in June to 627.6 bolivars per dollar after plunging 29 percent in May and has tumbled 68 percent so far this year. The complementary system, known as DICOM, accounts for about 8 percent of the government's hard currency sales. It sells the rest at the priority rate of only 10 bolivars per dollar.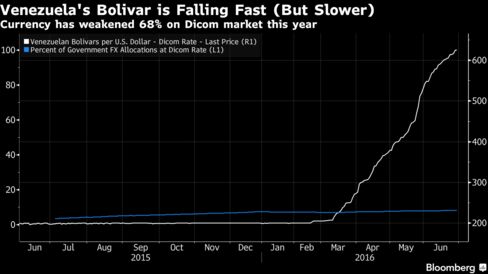 Crude Prices
If there has been one bit of good news for Venezuela, it's that the price it receives for its oil exports has started to stabilize and increased slightly. At $40.16 a barrel, it's up 86 percent from a low of $21.63 a barrel in January. Still,
concerns
are starting to grow that overall revenue may suffer as crude output falls. Eulogio Del Pino, the country's oil minister and president of state-owned producer PDVSA, told Bloomberg Television on June 16 that current oil prices would be
enough
to avoid a default.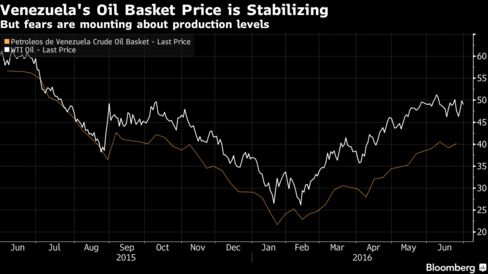 Social Tension
Social tensions are rising as the country, with its limited access to dollars, tightens restrictions on imports. In June, the number of attempted and successful looting incidents is set to rise to a record, according to preliminary data from the Venezuela Observatory of Social Conflicts. Food riots and looting in the eastern city of Cumana left several dead and hundreds detained in mid-June.
An official dialogue between the opposition and the government, the recall referendum and potential actions by the Organization of American States don't have to be "mutually exclusive," U.S. Under Secretary for Political Affairs Thomas Shannon said on June 24 after holding talks with government and opposition officials in Caracas in an effort to deescalate tensions.