Stuns Bond Traders Haunted by Bad Memories
President Mauricio Macri of Argentina has become a market favorite by undoing many of the heavy-handed policies of his predecessor.
But now some bond analysts say that he's taking a page out of her playbook.
Last week, the government said it will change the way it measures the economy, sparking concern that holders of warrants tied to Argentina's growth will get fewer payouts. It also said it will use a different consumer price index, which shows less inflation, to determine payments on inflation-linked bonds.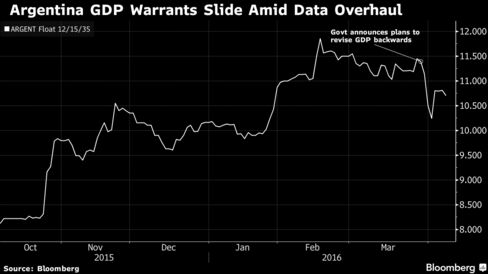 The revisions sparked a selloff in the so-called GDP warrants as a sense of deja vu descended over investors who had regained
confidence
in Argentina with Macri's election in November. During Cristina Fernandez de Kirchner's tenure, the credibility of economic data was repeatedly questioned.
Many investors and analysts were convinced the government manipulated the data to reduce bondholder payments.
The International Monetary Fund even took the unprecedented step of censuring Argentina for inaccurate statistics in 2013.
"I'm sure the government has its justifications, but foreigners often see things in black and white, and the reality is that the memory of what happened in the years of the Kirchner governments is still quite fresh," Javier Kulesz, an executive director at Jefferies Group LLC, said at the
Bloomberg Argentina Summit
on April 5. "To come out with something like this left a bitter taste with some investors."
The Finance Ministry referred questions about economic data to the statistics agency, which declined to comment on comparisons with the previous administration. Argentina's economic data is being overhauled after years of alleged distortions. The GDP revision is in line with this mandate, said a statistics agency official who asked not to be identified citing agency policy.
The warrants have
tumbled
5.9 percent since March 30, when the government said it would revise growth data from 2004 and 2015 and use a different base year to calculate expansion. The move has sown confusion about the value of the securities, according to Barclays Plc. They surged 44 percent from the end of September through February on optimism the economy was poised to grow faster under Macri, who took office in December with promises to bolster transparency and lure foreign investment.
A payout is triggered when the economy expands more than 3 percent.
"The coupons are extremely sensitive," said Siobhan Morden, the head of Latin America fixed-income strategy at Nomura Holdings Inc. "There's a risk that there will be less, if any, excess GDP and that investors won't be eligible for a coupon."
Inflation-linked bonds due in 2033 have dropped 0.9 percent since March 29, when the government said it will use San Luis province's inflation index instead of a gauge that measured the cost of living in Buenos Aires. Prices in San Luis rose 2.7 percent in February, versus 4 percent in the capital.
The central bank changed the inflation index for the country because the cost of living in San Luis is more in line with the rest of Argentina, central bank President Federico Sturzenegger said at the
Bloomberg Argentina Summit
. A new national inflation index will be published July 15, according to the statistics agency's publication calendar.
In Fernandez's last month in office, the official inflation rate of 14 percent was half of what economists estimated. A group of investors In 2014, she stunned investors when she changed the base year for the nation's GDP index from 1993 to 2004,
nullifying
a $3 billion payment to holders of warrants.
"Regardless of the ostensible logic behind the decision, CPI-linker holders justifiably fear that a chunk of their returns are being confiscated," said Walter Stoeppelwerth, chief investment officer of Balanz Capital in Buenos Aires.