Argentina's Prat-Gay: Call Your Broker and Buy My Bonds
Argentina's first global debt sale in 15 years is receiving "awesome" demand, Finance Minister Alfonso Prat-Gay said.
"If you haven't done it, you might as well call your broker because the demand is awesome," he said from Washington D.C., where he spoke at an event at Georgetown University during the spring meetings of the International Monetary Fund and World Bank. "Of course I'm talking my book, but I'm not in a way because it really is unbelievable."
Argentine officials have been holding investor meetings this week in London, New York, Boston, Los Angeles and Washington as they market a sale Prat-Gay said will be capped at $15 billion. The country received a favorable
ruling
Wednesday from a U.S. appeals court that will allow it to resume paying overseas debt and access international debt markets for the first time since defaulting on $95 billion in 2001. Argentina is looking to start accepting offers on Monday, sell the bonds Tuesday and pay holdout creditors led by hedge fund Elliott Management by the end of next week, he said Wednesday.
Since President Mauricio Macri took office in December, he has reversed many of his predecessor's policies in an effort to revamp South America's second-largest economy -- and its reputation with investors abroad -- by removing capital controls, eliminating most export tariffs and overhauling the statistics agency. Now, the government's priorities will be to fight inflation and revive economic growth, Prat-Gay said. It's seeking to boost growth to 4 percent and reduce the inflation rate to below 17 percent next year, he said. The government also plans to eliminate a fiscal deficit by the end of Macri's mandate, according to Prat-Gay.
"We've got to strike the right balance and take into account the many political and social constraints that we've got" he said. "We want to be very realistic about what can be done, and therefore what will be done."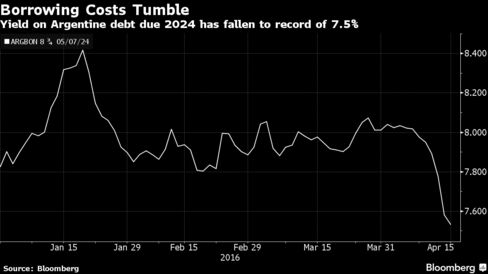 The banks involved in the issuance can charge a fee of 0.18 percent on the amount to be offered, the government published in a resolution in the official gazette Friday. The debt sale will be led by Deutsche Bank AG, HSBC Holdings Plc, JPMorgan Chase & Co. and Banco Santander SA, the government said. Banco Bilbao Vizcaya Argentaria SA, UBS Group AG and Citigroup Inc. are also involved in the sale. Argentina has hired Standard & Poor's to help rate the new bonds, they said in a separate resolution.
Argentina is planning to hold a conference on investment opportunities in August and will organize roadshows in three parts of the world to advertise it, Prat-Gay said at a conference hosted by the Atlantic Council on Thursday.
Argentina's defaulted bonds due 2033, which trade with accrued interest, have gained to a record high of 124.3 cents on the dollar following the favorable court ruling.
Argentina is also looking to protect itself against future holdout creditors, he said. The country is exploring how it might institute rules that would limit investors' ability to litigate on bonds they didn't hold during or prior to a default, he said at the Atlantic Council.
The comment echoes the so-called Champerty defense, originally an English common law doctrine that forbids the purchase of a claim for the purpose of filing a lawsuit. In a 1998 case between Elliott and Peru, a U.S. appeals court found that if the hedge fund's intention in purchasing Peruvian bonds was to be paid in full or otherwise litigate, its claims remained valid. Elliott's victory in that case saved the business of speculating on defaulted debt,
according to
a paper written by Argentina's attorney at Cleary Gottlieb Stein & Hamilton LLP.
"If we really want to put an end to this particular problem, that's probably the best way to go about it," Prat-Gay said.