Venezuelan Pride Keeps Cheap Oil Flowing as Economy Collapses
Venezuela can't feed its own population, or guarantee regular electricity supplies or even ensure medicines for hospitals, yet the fastest-shrinking economy in the Americas continues to send subsidized oil to the region's fastest-growing economy.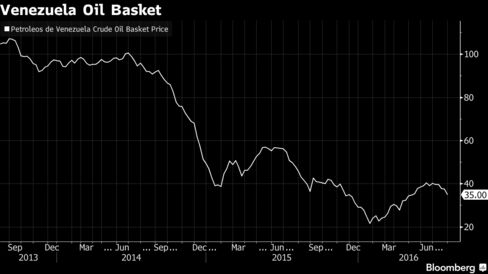 The Dominican Republic imported 631,009 barrels from Venezuela in the first four months of the year, down 29 percent from the year earlier, but still its biggest source of oil after the U.S., according to Finance Ministry figures obtained under a freedom of information request. The Caribbean nation pays about half of the bill up front, financing the rest over 25 years at an annual interest rate of 1 percent.
The largesse is a symptom of Venezuela's reluctance to ditch its image as the benevolent leader of a regional, socialist revolt against U.S. "imperialism", even as its economy implodes. While its own citizens wait for hours to buy basic necessities and hospitals run short of essential medicines, hundreds of thousands of barrels of cheap oil still go every month to countries across Central America and the Caribbean under the Petrocaribe energy pact.
"They are willing to take the national economy down for pride, instead of saying, 'You know what, we made a mistake,"' said Jorge Pinon, director of the Latin America and Caribbean Program at the University of Texas at Austin. "The whole issue is political optics. For them to announce Petrocaribe will stop would be a huge defeat."
Hugo Chavez
"It's incredible that, with the country in the state it's in, we're still selling cheap oil to Petrocaribe," said Felix Sardi, a 51-year-old Venezuelan who was queuing outside a Caracas supermarket on Tuesday. "We give away oil, and nothing gets any better."
Established in 2005 by the late President Hugo Chavez to share the wealth of the oil-rich nation, Petrocaribe supplies crude and refined products to countries from Belize to Haiti. Nicaragua and Cuba have separate, but similar accords. President Nicolas Maduro has continued the program even as oil prices fall, cutting into Venezuela's principal source of foreign income.
The Dominican Republic, with a $67 billion economy that is forecast to expand 5.5 percent this year, after growing 7 percent in 2015, can receive as many as 30,000 barrels per day of crude or refined petroleum products under the pact.
Meanwhile, Venezuela's economy is expected to shrink 10 percent this year, the largest contraction in more than a decade, while consumer prices rise more than 700 percent, according to the International Monetary Fund. Things have got so bad that the shipments may not even be Venezuelan, Pinon said.
"Venezuela doesn't have the crude," he said. "It's cheaper for them to purchase refined products in the international oil market and send them."
Venezuela's state-owned Petroleos de Venezuela SA did not immediately reply to e-mailed questions.
Early Payment
Last year, the Dominican Republic struck a deal with Venezuela to pay off most of the $4.1 billion in Petrocaribe debt at a discount of more than 50 percent. Since then, it has continued to receive shipments, running up another $206 million in debt, according to the Finance Ministry documents.
Petrocaribe countries owed Venezuela roughly $23 billion at the end of last year, according to a Bank of America Merrill Lynch report published in February.
Instead of cash, some countries pay their bill with shipments of black beans, blue jeans, milk, coffee and pasta. Jamaica, which last year paid $1.5 billion to write off its $3.25 billion Petrocaribe debt, is about to restart shipments of goods and food, said Wesley Hughes, head of Jamaica's Petrocaribe Development Fund, which manages funds accumulated under the program.
"The Venezuelans are in need of building materials, food and other commodities," Hughes said.
Jamaica can receive as many as 23,500 barrels per day from PDVSA under the agreement.
Sharing the Pain
No country has benefited more than Cuba. The communist island can receive as much as 90,000 barrels per day, which it has paid for by sending doctors, military advisers and teachers back the other way. Cuba owed Venezuela about $15 billion at the end of last year, according to the Bank of America Merrill Lynch report.
The flow of oil appears to be slowing. Last month, President Raul Castro
said
Venezuela was reducing shipments, contributing to an economic slowdown in Cuba. Gross domestic product expanded 1 percent in the first half of the year, half of what the government had forecast.
In response, the Castro administration is trying to cut fuel consumption by nearly a third, warning of potential blackouts and instituting measures like reducing bus schedules, turning off air conditioning in public offices and cutting fuel supplies for government vehicles.
Cuba has seen "a contraction in fuel shipments agreed upon with Venezuela, despite the strong will of President Nicolas Maduro and his government to fulfill them," Castro said. "Obviously, this has caused additional stress on the functioning of the Cuban economy."