Venezuela Wins Bondholder Relief as 39% Accept PDVSA Swap
Company agrees to exchange $2.8 billion of old bonds for new

PDVSA had previously insisted on a minimum of $3.55 billion
Petroleos de Venezuela SA, the state oil company struggling to avoid default, will move forward with a plan to swap a portion of its $7.1 billion in bonds for new ones even after investors tendered far fewer securities than it sought.
The oil producer said holders with 39 percent of the bonds coming due next year agreed to tender their notes for new debt that matures in 2020, less than its 50 percent goal. Officials at PDVSA had said they needed investors with at least half the debt to participate in the swap or they would struggle to meet obligations. Notes from PDVSA and Venezuela's government edged higher.
Years of declining output and a crash in oil prices have left PDVSA and Venezuela, which relies on crude for almost all its hard currency income, short of cash to make payments and import basic necessities for its citizens. PDVSA first announced the exchange in September and, despite extending the deadline four times and improving the terms, it was unable to persuade a majority of creditors to tender their notes.
"This does provide them with a bit more breathing room for 2017, so mission accomplished," said Edwin Gutierrez, the head of emerging market sovereign debt at Aberdeen Asset Management in London, which overseas $403 billion in assets. "Although by no means does it ensure that all payments will be made in 2017 as that remains a big challenge."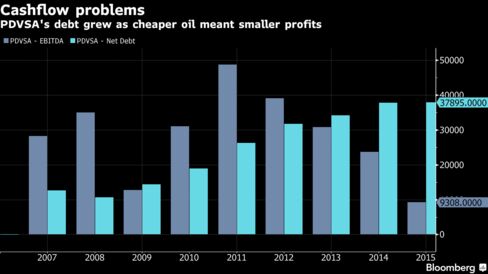 By exchanging $2.8 billion of the old bonds, due in April 2017 and November 2017, for new debt with annual payments through 2020, the state-owned oil company will reduce bond outlays that would have totaled $11 billion by the end of next year.
PDVSA said it will issue $3.4 billion in new debt to complete the exchange.
The company's existing bonds extended earlier gains after the swap announcement. The notes due in November 2017, half of which are due for payment next week, rose 0.82 cent to 83.06 cents per dollar as of 11:39 a.m. in New York. Its bonds due in 2022 rose 1.4 cent to 60.73 cents per dollar. Venezuelan sovereign debt also rose.
"The announcement is mildly positive ," Jorge Piedrahita, the chief executive officer of brokerage Torino Capital LLC, said in an e-mailed note. "Clearly there is no desire to default and they will continue paying."
The company pledged 50.1 percent of its stake in the holding company of U.S. refining arm Citgo Petroleum Corp. as a guarantee for the bonds created in the exchange. It had been reluctant to swap less than half to avoid devaluing its prized asset.
Oil Minister Eulogio Del Pino last week said that if the swap failed, officials would be "evaluating all options."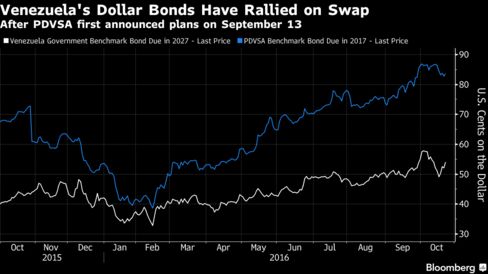 After initially offering investors $1,000 of the new securities for every $1,000 of the old bonds offered, PDVSA on Sept. 26 sweetened the deal by pledging $1,170 for every $1,000 of the April 2017 securities and $1,220 for the November 2017 bonds.
The fact the swap went through at all may reassure holders of other Venezuelan debt that both the company and country can avoid a default. PDVSA has $1 billion of bonds coming due next week, which trade at levels signaling some skepticism the payment will be made.
Venezuelan bonds have lost investors 5.5 percent this month, the most in emerging-markets, as hope faded that the swap would go through. Venezuelan sovereign debt is the most expensive to insure against default with the contracts pricing in a 89 percent probability of missed payments in the next five years.