Venezuelan Credit Dashboard: October Payments Total $1.8 Billion
Debt Payments
The government and state oil company Petroleos de Venezuela SA need to make $1.75 billion in debt payments this month -- including a principal payment of $1 billion on a PDVSA bond that matures Oct. 28 -- after payments totaling $310 million in September, according to data compiled by Bloomberg.
Whether or not Venezuela can avoid a default over the next 12 months may depend on if PDVSA completes the swap it announced Sept. 13. The company last week was forced to sweeten the terms of the bond exchange proposal and is offering to pay holders as much as 1.22 times the face value of their 2017 notes in exchange for longer-maturity securities. The early tender deadline for the
offer
is October 6.
"Significant participation could allow some breathing room," Siobhan Morden, the head of Latin American fixed-income strategy at Nomura Holdings Inc., said in a note on Sept. 28. "We are closely monitoring the FX reserves and imports as the only potential flexibility on remaining current on external debt service."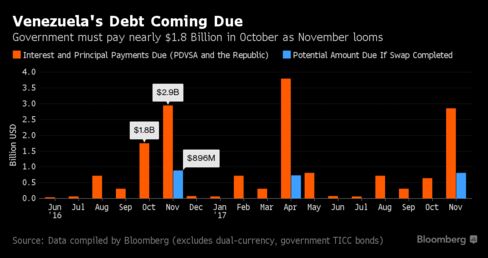 Bond Prices
Venezuela's dollar bonds rallied in September as PDVSA announced the swap offer and new drilling plans to tap reserves in the Orinoco heavy crude belt.
The government's $4 billion of benchmark notes due 2027 rose 10.3 percent in September to 54.9 cents on the dollar as yields declined to 19.3 percent.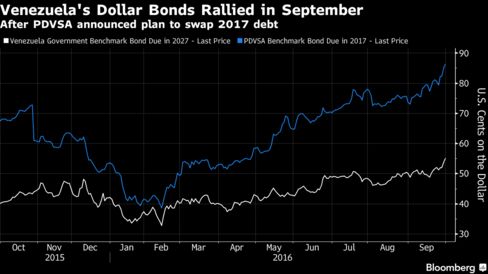 Credit-Default Swaps
Trading in credit-default swaps show that investors decreased short-term default expectations in September, with the the implied probability that it happens over the next 12 months falling to 43 percent from 50 percent at the end of August. That's much less then the implied risk of 83 percent seen in February.
As long as PDVSA continues to pay, a "selective default" credit rating shouldn't trigger the payment of CDS, JPMorgan Chase & Co. analysts led by Javier Zorrilla wrote in report on Sept. 23.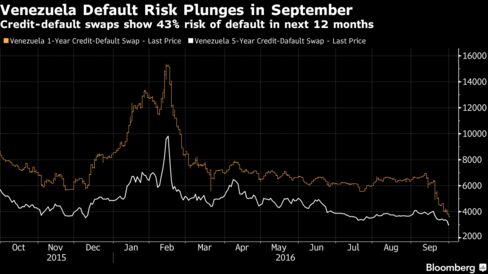 Central Bank Reserves
Venezuela's international reserves were little changed in September, hovering around a 13-year low of $11.8 billion. Reserves have fallen about $4.5 billion this year, according to data compiled by Bloomberg.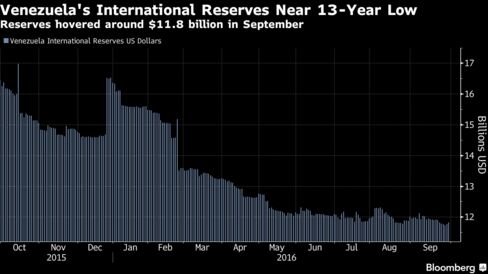 Currency Rates
Venezuela's weakest official exchange rate, used mostly for imports deemed non-essential, started to depreciate again in September and weakened 2 percent, ending the month at 658.1 bolivars per dollar.
The complementary system, known as Simadi or DICOM, accounts for about 8 percent of the government's hard currency sales. The rest of Venezuela's greenbacks are sold at the priority rate of only 10 bolivars per dollar.
The Simadi bolivar has weakened a staggering 70 percent this year.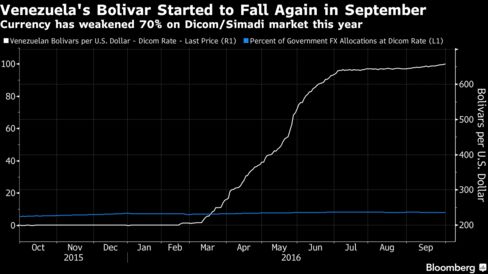 Crude Prices
The price Venezuela receives for its oil exports fell 4 percent in September to $38.81 a barrel even as West Texas Intermediate rose almost 8 percent, suggesting the country hasn't yet been able to capitalize on PDVSA president Eulogio Del Pino's efforts to lobby for OPEC production limits.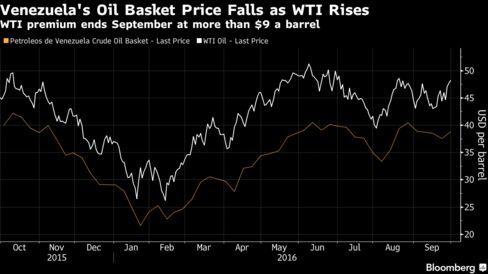 The opposition continues to insist on a recall referendum this year to remove President Nicolas Maduro but the National Electoral Council said the next stage in the process, the collection of 20 percent of signatures from registered voters, won't happen until late October, effectively pushing the process into 2017.
The opposition continues to push for a recall vote this year and is planning to stage protests nationwide on Oct. 12.