These Harvard Economists Offer Differing Views for How to Save Venezuela
by
Harvard's Ricardo Hausmann favors government ouster, IMF aid

Francisco Rodriguez wants unity government and avoiding IMF
Six months ago, with Venezuela hurtling toward calamity, one of its most renowned economists living in exile assembled a group of scholars with a decidedly unacademic goal: to save the country. Ricardo Hausmann, 60, a Harvard professor and former government minister, brought together monetary experts, oil engineers and sociologists.
One key player was excluded -- Francisco Rodriguez, 46, a widely-read economist, himself a Harvard PhD, who co-edited a book with Hausmann and once viewed him as a mentor. Stung by the rejection, Rodriguez, now chief economist at
Torino Capital
, an emerging market investment bank in New York, has pushed forward his own view on how to pull the country back from the brink.
The result is that as the leftist government of President Nicolas Maduro holds tightly to power, rejecting humanitarian aid and attempts at political change, two competing visions for the future are being hammered out in two corners of the Northeast of the US by two men, one of whom could get tapped to run economic policy in the future.
Their differences tell a great deal about whether the country of 30 million can recover from its current torpor. One starts by asserting that Venezuela is insolvent and can't recover without the ouster of the ruling party. The other focuses on dialogue, bridging proposals and the notion that the either/or approach amounts to national suicide.
"They're both appealing to public opinion and trying to influence what to do with a country in crisis," said Angel Alayon, an economist who runs Prodavinci, a Venezuelan news and analysis website to which both Hausmann and Rodriguez have contributed.
Salvageable?
After nearly 18 years of socialist rule, Venezuela's citizens are racked by chronic shortages and spiraling inflation while the government scrambles to make good on billions of dollars in bond debts by slashing essential imports. Hausmann says the system cannot be saved.
"The question is not when the collapse will happen," he said over lunch near Harvard Square. "This is the collapse." Hausmann, dismissed as a "financial hit man" by Maduro, says the government is irredeemably incompetent, has trampled on the constitution and Venezuela has no future until it is swept aside.
A government minister in the 1990s before the socialists took power, Hausmann has presented his findings to the political opposition. He says the cash-strapped nation has only one path to salvation: Approach the
International Monetary Fund
for a multi-billion-dollar loan and assistance in getting the house in order.
"The country cannot survive at these levels of imports," he says. Venezuela has undergone a drastic belt-tightening ahead of bond payments "in an environment in which no one is willing to lend to it."
'Empty Revolution'
Rodriguez, who offers a more optimistic view, was a top budget official during the years when Hugo Chavez was in power. But he is no government apologist. After being overwhelmingly approved by the Chavista-led national assembly in 2000 and then fired by it in 2004, he became a professor in the U.S. and famously wrote an article called "An Empty Revolution: The Unfulfilled Promises of Hugo Chavez." Later, he worked as an often-quoted analyst at Bank of America.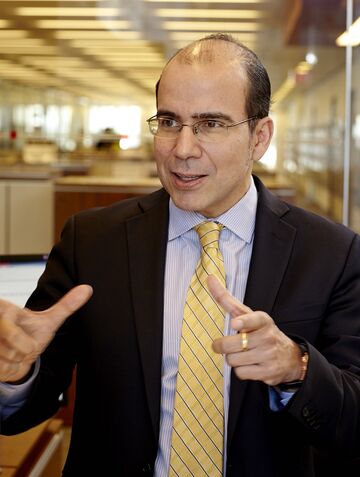 The two economists speak of each other with a mix of respect and irritation. Lacking official data, their quarrel stems partly from differences in estimates of economic indicators that the government refuses to routinely publish, such as gross domestic product and inflation.
"I think that Ricardo is the best Venezuelan economist alive today," Rodriguez said of his older colleague. "I was very much inspired by his research and he was one of the persons whose writings convinced me to study economics." But the closed-door nature of the Harvard research upsets him. He calls it "too secretive" and "mistaken."
Reluctant to Condemn
Their relationship dates back decades. Hausmann became chief economist at the
Inter-American Development Bank
and after Rodriguez left government, they organized conferences together and edited their book.
Yet Rodriguez' willingness to work with -- and reluctance to condemn -- those in power has driven a wedge between them.
Asked why he left Rodriguez out, Hausmann said he was in the private sector, posing a potential conflict of interest. Besides, he said, "He doesn't have a right to be invited everywhere. He has to grow up."
At a standing-room-only debate on the Venezuelan economy at the Brookings Institution in Washington this week, the two traded subtle barbs while each noted that the other may well hold a key financial job in a post-Maduro government.
Whether Hausmann is right about the IMF, tapping the multilateral lender is a tough sell in Venezuela, where the left considers it anathema.
Broke or Poorly Run?
Rodriguez contends that his country is not broke, just poorly run.
"I do not believe Venezuela is insolvent," he said in an interview. "It has a very positive balance sheet which, with the right policy, should enable it to regain market access."
Skeptics point out that as the price of oil continues to slump, the economy is expected shrink for the third consecutive year by 10 percent while inflation surges to near 500 percent.
Rodriguez counters by pointing to the nation's vast oil reserves (which surpass Saudi Arabia's) and says that with a new government, Venezuela could obtain the loans it needs from the financial markets. Hausmann calls that a fantasy and says the country needs to restructure its debts. Investors have been bracing for such a move for a while, having driven down the price on the country's benchmark bonds to less than 50 cents on the dollar.
Rolling Back Chavez Policies
There are elements that the plans have in common. Both want to roll back many Chavez-era policies, such as the tangled web of price and currency controls, multi-tiered exchange rates and low gas and utility prices. They disagree over how to handle the debt but the central gap is over whom to work with.
Rodriguez recently helped create policy recommendations for the Maduro administration but they were largely disregarded. He now hopes to bridge Chavistas with the opposition.
Hausmann wants Maduro to step down. In 2014, Maduro labeled him a "bandit" and vowed legal action after Hausmann wrote an essay suggesting that the government default on bondholders since it had failed to provide its citizens with food and medicine.
With Venezuela continuing its slide toward financial abyss, the two economists' approaches are widely seen as the poles of any future discussion.
"They are the reference points," said Francisco Toro, editor of the popular blog, Caracas Chronicles. "If this debate hadn't developed, it wouldn't even be clear what we should be arguing about."