PDVSA Bonds Surge as Company Says It Will Announce Debt Swap
Petroleos de Venezuela SA's bonds surged to a two-year high as Oil Minister Eulogio Del Pino said the state-owned oil company is close to announcing a $7 billion plan to exchange notes due this year and next for debt with a longer maturity.
PDVSA's $3 billion of bonds due in April 2017 rose 3.14 cents to 71.41 cents on the dollar at 4:54 p.m. in New York, reaching the highest since September 2014. Traders pared back bets on an imminent default, with credit default swaps now showing a 51 percent probability the company will miss payments over the next year, down from 61 percent three months ago.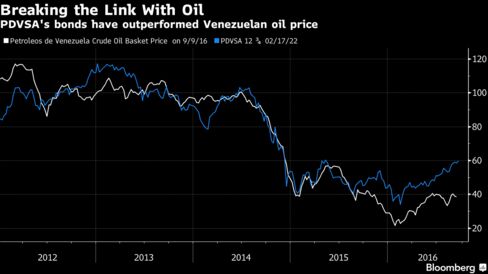 Pushing back the due date on its debt would give PDVSA some breathing room after a plunge in oil prices, a decline in crude output and a deep economic recession amid political turmoil fueled speculation the producer would struggle to meet its obligations -- including $4.1 billion due by January. The cash-strapped country has been on default watch for the past two years, yet Venezuela has managed to scrounge up enough money to make its debt payments even as foreign-currency reserves fell to the lowest in 13 years.
"It greatly relieves us of payments due in 2016 and 2017, years when debt payments would have peaked," Del Pino said, adding that the government is working with allies in the Organization of Petroleum Exporting Countries to boost oil prices. "While that happens, we are seeking financial relief of the burden of bond payments that are coming due."
The new bonds will have yearly payments until 2020 and will be backed by shares of PDVSA's Citgo Petroleum Corp., Del Pino said on state television. More than five banks have offered to act as trustee, and bond rating companies have welcomed the swap, which would be for PDVSA notes due in October 2016, April 2017 and November 2017. There is a combined $8.1 billion of the securities outstanding.
PDVSA is scheduled to make $7.5 billion of debt payments next year. Earnings before some items was just $9.3 billion in 2015.
With an average annual yield of 30 percent, PDVSA bonds have returned 41 percent this year as oil prices jumped. The gain is more than four times the average for emerging-market corporate bonds. Crude is down 58 percent in the past three years